The most exciting Christmas 2022 bakery favours in UK retailers.
Looking for the newest and bravest flavours on the market in bakery for Christmas 2022? We've done the hard work for you.
We checked out the Christmas offerings from all the UK's main retailers and shortlisted the most interesting and brave new flavours to try.
Firecracker Pudding – Aldi
Your dinner table better have a glass of water handy. Aldi are pushing boundaries by introducing a chili flavoured sauce to Christmas pudding.
It doesn't stop there, it's a real flavour explosion with vine fruits, cider, Amontillado sherry, and Belgian chocolate chunks. To top it off they even chuck in a sachet of coated popping candy to add that extra bit of excitement.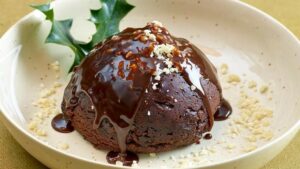 Blonde Chocolate Christmas Present Torte Bar – Tesco
Blonde Chocolate found its way into Hot Cross Buns launches this year, and like we guessed, it's hugely prominent across all the retailers' bakery and dessert lines for Christmas 2022.
Our pick of the bunch is a luxury blonde chocolate torte from Tesco that ticks all our boxes.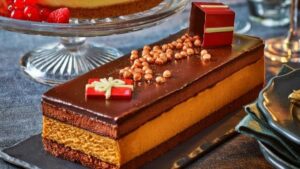 Mandarin Negroni Stollen – Waitrose
This launch from Waitrose is a real cracker. Waitrose has paired the traditional Christmas flavour of Stollen with the cocktail of the moment, Negroni.
The classic Negroni cocktail has really made a comeback  and seems to be the cocktail of the moment. Take into account that cocktail flavours are huge in the dessert category in 2022, we think Waitrose could be onto a winner with this one.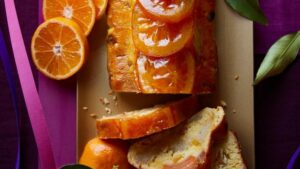 Cheesy Churros – Co-op
This one does what it says on the tin. Churros are a sure fire winner and you can't go wrong with cheese.
Co-op are following on the recent bakery trend of bringing savoury flavours into traditionally sweet applications. And what better application than Churros?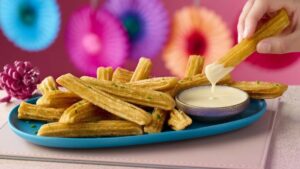 Passionfruit Panna Cotta Star – Morrisons
Exotic and tropical fruits are big at summertime, but who says we can't enjoy a bit of tropical holiday flavour at Christmas?
Bold move from Morrisons using a typically summer flavour in the middle of all the warming and traditional Christmas flavours. We'll be trying this one for sure.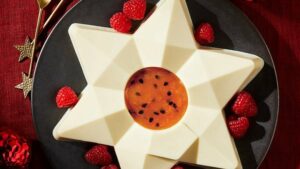 Feeling Inspired?
Have these new Christmas launches got your brain ticking about new concepts? Or maybe they are making you doubt your Christmas flavour launches? 
Get in touch with our team today to discuss bringing these, or any other new flavours to life in your next product launch. You might be pushing it, but there could still be time for a last minute Christmas launch idea…?